Online yoga? I know who would have guessed it would be all the rage. Well times are a changing. There is a now a world of opportunity in online yoga teaching. Thanks in part to the pandemic we have seen the entire world go online for everything, food, entertainment, shopping, and even yoga.
This is where Yoga Renew come in. They have trained thousands upon thousands of teachers since 2016 and are one of the guys who dominate the online yoga space. They saw this opportunity and took advantage and are now one of the most popular online yoga platforms in existence and it's easy to see why.
Their affordable, comprehensive, beginner friendly courses, are combined with expert level teachers and easily digestible modules. They have a good thing going for them.
This review we set out to review what they have on offer. We will cover the course structure, the materials, the teachers, and everything in between. Hold on tight here we go on our review of YogaRenew's online yoga teacher training course.
Good for beginners
What I like
30 days and we'll refund
Study at your own pace
Offer a Teacher Collective for new teachers where you can ask questions, get support and mentorship

Yoga Alliance Net Promoter (NPS) Score: 9.0/10
90
Yoga Alliance Overall Rating: 4.81/5 (out of 2318 reviews)
96
Online Platform: Trust Pilot 4.9/5 (out of 1668 reviews)
97
*Stats were updated March '2023
You can read more about all of the Online Yoga Teacher Courses in our massive roundup here:

For more on online courses check out our full list here
>> Best Online Yoga Teacher Training<<


My Experience with YogaRenew Online Yoga Teacher Training Program
When I first embarked on my journey with Yoga Renew Online, I realized it wasn't just another platform. Pretty soon, Yoga Renew Online became my go-to for comprehensive and personalized yoga teacher training. I was particularly drawn to their diverse offerings:
200-hour Training: Foundations for new instructors.
300-hour Training: Advanced studies for evolving instructors.
500-hour Training: Combination of 200+300 courses
What set them apart?
Their affiliation with Yoga Alliance ensured that every certification I received was recognized, establishing trust in my credentials worldwide.
Their curriculum was a blend of age-old yoga traditions and modern pedagogies, offering a rich understanding of yoga philosophy, anatomy, and the art of teaching. I immersed myself in:
Live online sessions, where real-time interactions deepened my learning.
Recorded videos that I could revisit, solidifying concepts at my pace.
Interactive exercises that made learning engaging.
One-on-one coaching from some of the most experienced and compassionate yoga mentors.
An extensive library that became my treasure trove, filled with articles, books, and videos.
The beauty of our courses? They're self-paced. Study when you can, where you want, even from the cozy corner of your living room. Upon graduation, you'll hold a globally acknowledged Yoga Alliance certificate, ready to inspire others as a certified yoga instructor.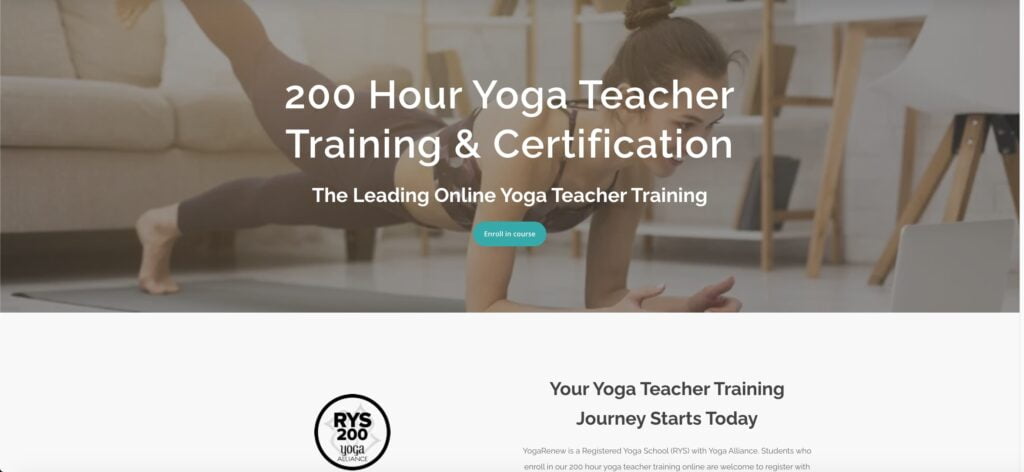 200hr Yoga Teacher Training & Certification
Embarking on the 200-Hour Yoga Teacher Training & Certification with YogaRenew is a transformative experience. Tailored for both budding enthusiasts and seasoned practitioners, this program will deepen your yoga understanding, allowing you to share its essence with a broader audience.
This Yoga Teacher Training & Certification program is divided into modules: Asana, Pranayama, Meditation, Anatomy, Physiology, Philosophy, and Teaching Methodology. During the program, you will learn how to teach different styles of yoga, including Hatha, Vinyasa, and Restorative. You will also learn how to modify poses for different levels of ability, adjust alignment, and create safe and effective sequences for your students.
What You'll Learn?
Key Learning Areas:
Asana: Master a plethora of yoga poses, from inversions to twists. Understand the nuances of modifications for varied abilities, and curate effective sequences.
Pranayama: Delve into powerful breathing techniques such as Ujjayi, Kapalabhati, and Nadi Shodhana. Infuse pranayama into your classes to amplify the practice's benefits.
Meditation: Explore meditation techniques spanning from mindfulness to loving-kindness and mantra-based practices. Learn to guide students through introspective journeys.
Anatomy & Physiology: Understand the intricate systems that constitute our body and the profound impact of yoga on them. Offer poses that are not only safe but also beneficial.
Philosophy: Travel through the profound depths of yoga's history, exploring treasures like the Yoga Sutras of Patanjali and the Bhagavad Gita. Relate these teachings to modern-day practice and instruction.
Teaching Methodology: Acquire the skills to devise engaging lesson plans, cater to diverse skill levels, and manage your sessions efficiently. Furthermore, step into the world of professional yoga teaching, exploring ways to market yourself and cultivate a loyal student base.
Training Materials
YogaRenew ensures you're well-equipped throughout the program by providing the following materials:
1. Course Handbooks: Each module comes with an exhaustive handbook filled with instructions, illustrations, and visual aids to enhance your understanding.
2. Digital Videos: Get access to demonstrative videos that highlight poses, breathing exercises, and meditation techniques. They're designed for you to progress at your preferred speed and to revisit topics whenever needed.
3. Personal Practice Diary: To track your journey, you'll be given a practice diary. It's an avenue for reflection, goal-setting, and observing your growth.
Bonus Materials
| Offer | Value |
| --- | --- |
| 50 Class Sequence Plans | $150 |
| 125 Creative Yoga Class Ideas | $55 |
| Weekly Newsletter Sequence Ideas and Teaching Tips | |
| Yoga Asana Teaching Flashcards | $50 |
| Guided Meditation Videos | $100 |
| Weekly Yoga Class Playlists | |
| Yoga Resume Templates | $250 |
| Sample New Yoga Client Intake & Health History Form | $250 |
| Sample Waiver of Liability | $250 |
| 75 Weekly Class Themes to Inspire | $50 |
| Chakras Ebook | $50 |
| Understanding Your Soul's Purpose Ebook | $50 |
Supports And Benefits I Experienced
Going through this program, I personally experienced a wide array of supports and benefits that greatly aided my journey as a yoga teacher. Here are some of the most notable aspects:
Guidance from Experienced Teachers: I was taught by seasoned and certified yoga instructors who had a profound understanding of yoga philosophy, anatomy, and asana practice. Their dedication to my growth was evident, as they provided me with tailored advice and feedback throughout my learning journey.
User-friendly Online Platform: My lessons were delivered via an intuitive and engaging online platform, which allowed me to access all the necessary materials, lectures, and tasks from anywhere on the globe.
Lifetime Access to Resources: After finishing the program, I was thrilled to discover that I now have perpetual access to all the course content. This includes video lectures, training guides, and practice routines. This feature is incredibly handy, allowing me to refresh my knowledge or gear up for more advanced training anytime.
Recognized Certification: At the end of my journey, I was awarded a 200 Hour Yoga Teacher Training certification. What's fantastic is that this certification is recognized by Yoga Alliance and other prominent yoga entities.
Opportunities to Network: One of the enriching parts of the program was the ample chances it gave me to network. I got to connect with fellow trainees, graduates, and experts in the yoga industry, both virtually and face-to-face.
Looking for an alternative Online YTTC?
Areas I Felt Needed Improvement
The Absence of Face-to-face Sessions: While the digital setup was certainly convenient and adaptable to my schedule, I sometimes missed the intimacy and hands-on feedback that physical sessions can offer. Yes, there were video tutorials and comments from instructors, but for someone like me who thrives on in-person connections and tactile adjustments, this was a noticeable gap.
Intense Commitment Required: To be frank, this course demanded quite a bit. From assignments and practice routines to teaching practicums, the workload was hefty. While I understand that this intensity ensures we're thoroughly prepared to teach yoga, balancing this with other responsibilities, such as my job and family, sometimes became a tad challenging.
My Journey with the 300hr Yoga Teacher Training & Certification
Having already completed the 200-hour training, I felt an urge to dive deeper. That's when I embarked on the 300-Hour Yoga Teacher Training & Certification program. This advanced training illuminated the profound principles and philosophies of yoga, enabling me to guide my students with a more comprehensive perspective.
The program's duration varied, stretching from several weeks to a few months, immersing me in the study of complex asanas, pranayama, meditation, and much more. My goal? To garner a holistic education that would arm me with the prowess, knowledge, and self-assuredness to teach yoga at a higher level.
What Did I Absorb?
This training presented an expansive curriculum intended to enrich yoga instructors like myself. It took me on a journey through advanced asana exploration, yoga's history, and deep dives into age-old scriptures like the Bhagavad Gita. I became versed in various yoga forms, such as Hatha, Vinyasa, Yin, and Kundalini, gaining insights into injury prevention and pose modifications.
Additionally, my horizons expanded to chair yoga, Ayurveda, yoga nidra, advanced teaching strategies, and profound philosophies. I was also introduced to intricate class themes, meditation practices, and pranayama, all of which I've since woven into both my classes and personal sessions. A significant emphasis was placed on self-growth, vision setting, imaginative visualization, and fostering a constructive mindset, which I found pivotal for my success as a yoga instructor.
Furthermore, this program enlightened me on specialized yoga, like prenatal sessions, yoga for youngsters, and senior chair yoga. Ethics also played a prominent role, guiding me on embedding yoga's principles and its 8 Limbs into my lessons.
Training Materials
YogaRenew was generous with their training tools for the 300-Hour program. I received an insightful "8 Limbs of Yoga" workbook, a Seva teaching task to introduce yoga to communities, and a Yoga Sutras project, which encouraged me to paraphrase selected sutras creatively. These resources were instrumental in enhancing my comprehension of yoga philosophy and its practical applications.
The Perks I Relished
Advanced Acumen and Skills: This program fortified me with the expertise and capability to guide advanced yoga sessions.
Bolstered Self-belief: My confidence soared, empowering me to direct advanced yoga classes and lead my students towards heightened mindfulness.
Opportunities for Growth: Personally and professionally, I evolved as I gleaned wisdom from seasoned and informed trainers.
Sense of Community: Through this journey, I connected with peers who shared my passion, crafting a supportive network, especially on platforms like Facebook and other social media channels.
What They Could Improve?
Physical and Emotional Intensity: A point raised by several attendees, including myself, was the rigorous physical and emotional toll the program can exact. It's not a one-size-fits-all, and for some, this level of intensity may prove challenging.
Accessibility and Cost: The financial aspect of the program was another sticking point. For a number of aspiring participants, the cost posed a barrier, confining the program's reach primarily to those with the means to cover it.
Overall, the 300-Hour Yoga Teacher Training & Certification program is an excellent option for yoga teachers who want to deepen their practice and expand their teaching skills. The program offers advanced knowledge and skills, increased confidence, opportunities for growth, and a supportive community. While there are areas for improvement, the program provides participants with a comprehensive and valuable experience.
500-Hour Online Yoga Teacher Training
This course has been meticulously crafted to endow participants like me with an in-depth grasp of yoga's philosophy, anatomy, instructive techniques, and actual practice. Whether you're a neophyte or a seasoned yogi desiring to further your knowledge and hone your instructive prowess, this course is tailored for you. On course completion, I felt equipped to offer yoga sessions in studios, fitness centers, and myriad other venues.
What I Learned?
Here's a snapshot of the core areas the program enlightened me on:
Yoga's Philosophy and History: I delved deep into yoga's ancient origins and its transformation over time, acquainting myself with yoga's diverse pathways, its eight-faceted approach, and the significance of mindfulness.
Anatomy and Physiology: To teach yoga safely and with efficacy, a nuanced understanding of human anatomy is pivotal. This segment enlightened me on systems like musculoskeletal, respiratory, and neurological.
Asana Practice: Here, I learned the nitty-gritty of executing and imparting diverse yoga postures—ranging from standing and seated stances to inversions. Alignment, modifications, and sequencing were underscored.
Instructional Techniques: This portion emphasized crafting and presenting compelling yoga sessions, spanning lesson planning, student engagement, and feedback provision.
Pranayama and Meditation: Breathing exercises and meditation are yoga's heart and soul. Here, I was introduced to myriad pranayama styles and meditation disciplines, including mindfulness and visualization practices.
Ethics and Professional Conduct: As a yoga instructor, I recognized the necessity of adhering to ethical norms and exuding professionalism. The course covered facets like the student-teacher rapport, setting boundaries, and maintaining confidentiality.
Training Materials
Video Tutorials: The backbone of this course is its video-based lectures. Led by veteran yoga instructors, these videos delineated yoga's core tenets and practices.
Written Content: Alongside, I was furnished with written resources like course manuals, handouts, and study companions. They supplemented the videos, enriching my understanding further.
Practice Clips: These videos, spanning varied poses and sequences, were instrumental in sharpening my skills and nurturing my practice
Supports And Benefits
Holistic Curriculum: The program's blueprint is crafted to instill a profound comprehension of yoga's philosophy, anatomy, postures, breathing exercises, and meditation. I grasped the nuances of class design, sequencing, and pose modification.
Accreditation: Upon completion, I was awarded the 500-hour Yoga Teacher Training certificate by a Yoga Alliance-endorsed institution. This global recognition equipped me to instruct anywhere worldwide.
Job Placement Aid: Post-graduation, the program facilitated my employment search, guiding me on resume crafting, mastering interviews, and networking with yoga centers.
Lifelong Access to Resources: My association with the course materials didn't cease post-completion. I continually revisited these resources, ensuring my skills stayed updated.
What They Could Improve?
Tech Support: Though the course is tailored for those with rudimentary tech prowess, I reckon some might need extra help navigating the online platform.
Real-time Class Timing: The inclusion of live sessions is invaluable, fostering real-time interactions with tutors and peers. Yet, synchronizing these for a global audience, especially considering differing time zones and hectic lifestyles, can be challenging.
Pricing: The program, while invaluable, demands both time and financial investment. Though its pricing aligns with other 500-hour programs, it might be a stretch for some.
About The Lead Teachers
Kate Lombardo/Patrick Franco
Kate Lombardo and Patrick Franco are the directors of YogaRenew, a leading international online yoga studio. Her academic background makes her a valuable resource for the yoga community. Also, Kate's yoga classes reach tens of thousands of students worldwide. Yet, Patrick Franco developed and inspired some of the world's most renowned yoga teachers using his yoga and eastern medicine expertise. Throughout decades, his charisma has inspired the world. Franco's grounded spirituality and joy for life drive his award-winning yoga studios and YogaRenew worldwide.
Lindsay Monal
Lindsay Monal helps students find their completeness through yoga. She trained at Hosh Yoga and ISHTA Yoga in New York City. Lindsay's warm smile and loving manner encourage students to reflect on their bodies and breaths. She encourages her pupils to befriend their bodies and makes physical and energetic yoga accessible to everybody. Lindsay studied Yin Yoga, Yoga Nidra, Laughing Yoga, Sound Meditation, and Yoga for Trauma, Addiction, and Mental Health.
Ronen Kaufman
Ronen's vinyasa lessons blend challenge, curiosity, and attentive teaching. His long-term meditation practice informs his straightforward advice. Ronen, a RYT-500, studied under Patrick Franco Jr., Lindsey Rozmes, Kate Lombardo, Magi Pierce, and Julie Pasquale at the Hudson Yoga Project. Ronen gives his pupils lifelong skills by teaching them to use their bodies and minds purposefully.
Certification & Accreditation Of YogaRenew
YogaRenew is accredited by the Yoga Alliance, the largest non-profit organization representing the yoga community worldwide. The Yoga Alliance is recognized globally as the standard for accreditation for yoga teacher training and sets the guidelines for training programs.
YogaRenew's 200, 300, and 500-hour online yoga teacher training program is registered with the Yoga Alliance and meets its rigorous standards for training, curriculum, and instructional staff.
Upon completing the YogaRenew 200, 300, and 500 program, graduates will receive a certificate of completion from YogaRenew and are eligible to register as a Registered Yoga Teacher (RYT) with the Yoga Alliance. This certification will enable graduates to teach yoga internationally and serve as a mark of quality for students seeking a qualified yoga teacher.
YogaRenew's accreditation with the Yoga Alliance ensures that its online yoga teacher training program adheres to high-quality standards and provides students with a comprehensive, safe, and effective program.
Reviews
Don't take out word for it but take the
2800+ review on Yoga Alliance
1600+ reviews trust pilot
96 Review on FB
Go Deeper?
YogaRenew Vs. My Vinyasa Practice Online Yoga Teacher Training Review
Frequently Asked Questions
Who is eligible?
Anyone can enroll in the YogaRenew Online Yoga Teacher Training program. There are no prerequisites or prior yoga experience required. However, it is recommended that students have a consistent yoga practice before enrolling in the program.
How long does the course take to complete?
The YogaRenew Online Yoga Teacher Training program is self-paced, meaning students can complete it at their own pace. The program can be completed in as little as 8 weeks, but students have up to 12 months to complete the program.
Is Yoga Renews Courses worth it?
Having journeyed through Yoga Renew's online teacher training, I can attest to the program's immense worth. The course content is exhaustive, together with a true wisdom that is imparted by seasoned instructors, and an engaging digital learning environment collectively create a holistic and transformative educational odyssey.
What sets this program apart is its integration of the deeper ethos of yoga, connecting the physical practice with its historical and cultural roots. Moreover, the flexibility of the online platform allows for a personalized pace, enabling students to revisit and reinforce their understanding as needed.
In summary, if you're a budding yoga instructor yearning to deepen your well of knowledge Yoga Renew's online teacher training emerges as great choice.